Company Summary:
Meet Andrejka, owner and lead photographer at Andrejka Photography. Andrejka is a wedding and portrait photographer who works with a team of associate photographers, and a virtual assistant. Andrejka splits her time between Mackinac Island, Michigan, and Bali. When she's in Mackinac Island for the summer, she books over 80 sessions and weddings in the span of a few months. This means that for 6 months of the year, she is absolutely slammed. And for the other 6 months of her year, she needs a system that can take care of her clients that are 18 hours behind her.
Andrejka's Goal:
When Andrejka reached out to me, she was running her business in two different CRMs. She had been using one for some time but had recently become unhappy with the automations that weren't working, and the customer service that was (or was not) provided as a result of that. She was also still working on migrating her clients into her existing CRM from the CRM that she had previously outgrown. 
Andrejka needed a system that would let her run her business seamlessly and easily. With her previous troubles with automations, she wanted something that would let her automate as much or as little as she wanted to, with the intention that she would like to use them as much as possible but could stop the automations if she needed to. She also needed a CRM that would be easy for her assistant to learn how to use, that provided great customer service, and also looked good to her clients.
I set Andrejka up in Dubsado, a great user-friendly and intuitive CRM option for photographers.
List of Featured Services:
Andrejka's Return on Investment (ROI)
Before we dive into the nitty-gritty of what we set up for Andrejka, let's take a look at the results that she achieved by using our Done-for-You CRM set-up service.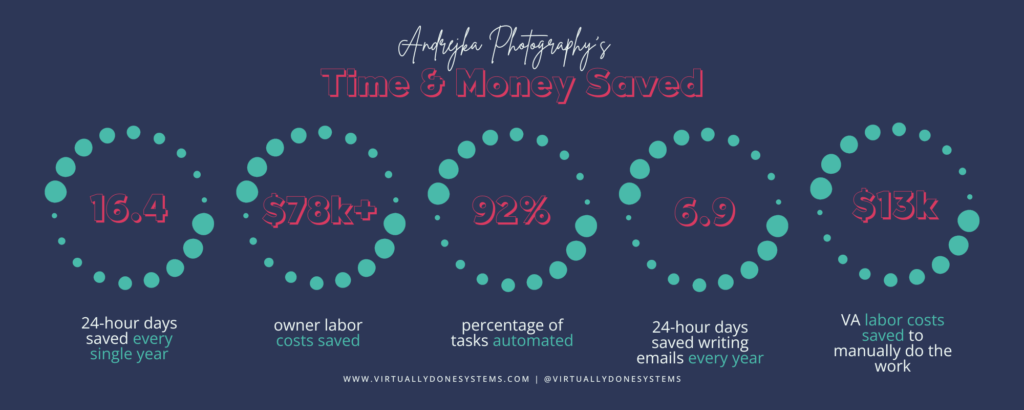 Across all services, we mapped out and planned 188 steps. Of those 188, 173 of them are now AUTOMATIC! (That's 92%!) This means that just 15 of them are manual!
If we assume that Andrejka books on average 80 clients a year, that means it takes an average of 1504 steps to execute and deliver her client experience(s). BUT because of the work we did, 1384 of those are taken care of AUTOMATICALLY by Dubsado, leaving her with just 120 steps to do manually each year. And, each of those 120 steps will remind her when they need to be completed. 
I estimated that based on all the emails Andrejka sends, she would normally spend around 167 hours per year writing emails, which she won't have to do now because Dubsado will do it for her - yay!! I also estimated that on average, she would have spent up to 70 hours a year creating and customizing forms, and 156 hours on other project management tasks (changing statuses, starting workflows, etc.).
This means that Andrejka's Dubsado set-up is saving her around 393 hours per year. And that's if she *only* books 80 clients (she'll likely book many more than that). That's just over 16 days that she's getting back into her year - yes!
When it comes to the money that Andrejka is saving, I estimated the value of her rate using an individual hourly rate of $100/hour. This means that she's saving upwards of $78k in her own labor each year by using Dubsado workflows. Isn't that crazy?! And at least $13k ($35/hour) for a virtual assistant to do all of these tasks manually as well.
Canned Email Library
Andrejka prides herself on being super personal with all of her clients and giving them as much detail as possible in each of her emails. For this reason, we made sure that she had an email template for any email that would ever need to go out to her clients, no matter the genre. Each email is customized using Dubsado's custom fields feature. This ensures that the client's personal session information is included in the messages, making each email feel like Andrejka hand-wrote it.
Forms Created
As part of Andrejka's wedding photography business, she likes to gather timeline and location details from her clients leading up to their wedding day. It was important that each of these forms feel just like Andrejka's website so her clients would receive one seamless experience from start to finish.
Proposals Created
In addition to creating timeline questionnaires, I also created proposals for every kind of service Andrejka offers. Using these beautiful, custom proposals, Andrejka's clients can book their photography sessions and packages.  Since Andrejka serves so many different genres, it was imperative that she had a custom, beautiful proposal for each one.
Lead Capture Forms Created
Since Andrejka is always on the move, her lead capture forms needed to be beautiful AND embedded into her website. No matter the lead capture form filled out, they're all set to trigger the start of a workflow. This means Andrejka can reply to all of her new leads without lifting a finger. 
Workflows Created
Once the foundations of Andrejka's workflows were in place, it was time to make the real magic happen: Workflows! We created two workflows for every service Andrejka offers. One handles anything and everything that happens before her clients officially book her. The other kicks off after their contract is signed and the initial invoice is paid. It was super important to Andrejka that her workflows be broken up into two pieces. Often, Andrejka's clients will inquire and book a session, all in under 2 weeks. We needed to ensure her workflows don't confirm details or timeline information if the client hasn't yet paid their retainer.
Custom Video Training Library
Sometimes the hardest part of getting new workflows up and running is learning how to use them. As part of Andrejka's offboarding process, we did a Live, 1:1 training session. This session walked her through how her new workflows function. We also created a completely custom-to-her-system Video Training Library. The short videos walk her through her workflows and show her how to make updates. They will also serve as a great place to help train any future staff. All in all Andrejka's Custom Video Training Library includes over 15 videos, specifically about her workflows and systems.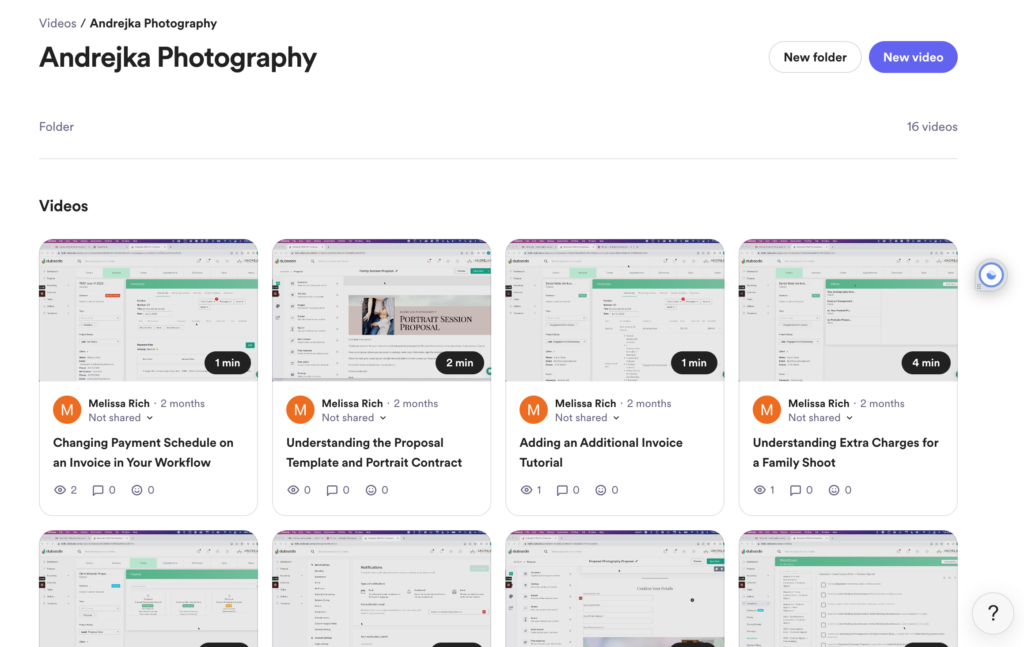 Thanks again so much for choosing Virtually Done Systems, Andrejka! I'm so excited that we got so much time back for you!
Do you need help getting your CRM or systems up and running? Schedule an obligation-free Discovery Call with me here!